Everyone has staples… things they always have on hand. Most people have the types of staples that you can throw together and create a meal. I do not generally have those types of staples… but I do have things that are always in my pantry/fridge/freezer.
1. Graham Crackers – These are like gold here in my house. They can part seas, end wars, and make people eat their vegetables. Oh and they taste really good too.
2. Kraft Macaroni and Cheese– Go ahead and judge, but I am sure you can't be left unattended with the saucepan of Kraft Mac either.
3. Pasta – could be farfalle… may be penne. If i all we have is two half boxes of each,  rest assured it will be both. But we always have pasta on hand. It opens so many doors. Meatless doors, saucy doors and many doors in between. Yup, we like it.
4. Tomato paste/sauce – For marinara, meat sauce, curry, chili… and the list goes on. If it's not a staple in your house… it prolly should be.
5. Brown rice – We really enjoy our fish and pork chops with a side of brown rice. Not to mention that curry I was talking about really goes well over it.
6. Pierogies – mmm mm mmm , we LOOOOVE  Ms. T's pierogies. Boiled or fried. Makes no difference. They are a delicious addition to any meal. I have to thank my husband and his East Coast side for introducing me to these delightful potato pillows. They are a mainstay in our home.
7. Peanut Butter – What is life without a spoon and a jar of peanut butter? My mother in law loves us enough to get us organic! You get out what you put in, after all. Which leads me to my next pick!
8. Cereal – sometimes it Cheerios. Most times Trader Joes Coconut, Cranberry Almond cereal. Either way, we can appreciate anything that you can pour milk on and call breakfast.
9. Bananas – Our kids love bananas and now that I've found the right way to peel them, it's even more fun to "Dole" them out…ha ha, get it? Bananas are a little high in natural sugars, but good for potassium and better than many other options.
10. This jar of Jellied Cranberry Sauce – It's always been there. I imagine a staple is something that's always there… I haven't needed it in nine years, but if I do, it's there.
You see, I really don't have many staples. Our likes and desires change with the date so I tend to get things by the week. I wouldn't suggest it. I am hoping that over the next few months I will start planning more menus and using everything I have on hand to make meals happen. Until then, my cupboards are a happy little hodge podge of who knows what. But we make it work.
What are some of the things you keep in your pantry?
This post is a part of the Tuesday Ten Line Up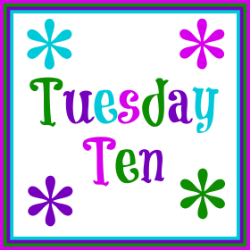 Hosted by The Golden Spoons and The Liebers